Washroom Service

We specialise in the supply and servicing of various units necessary for the efficient use of the modern office, factory or shopping centre ablution facility. These products can either be rented which includes full maintenance servicing or can be purchased.
Air Freshener Units

Automatic Urinal Flushing Units

Baby Changing Stations

Disposer Bins

Dust Mats

Hand Driers

Hand Lotion Dispensers

Paper Towel Dispensers

Sanitizers – toilet and urinal

Soap Dispensers

Shower Gel Dispensers

Sanitizer Dispensers

Seat Wipe Dispensers

Toilet Roll Holders

Touchless Hand Disinfection unit
---
Autoflush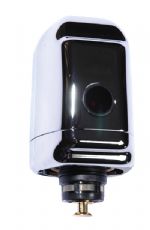 Research as to why bad odours occur in men's washrooms has proven that most men don't flush! The Excel Autoflush solves this problem and reduces the risk of cross contamination. As the user approaches the urinal the sensor picks up his presence, the unit gives it a two second preflush to wet the urinal. Once the user walks away the unit flushes for five seconds. This prevents the build up of uric acid in the trap, and eliminates the opportunity for bacterial growth and bad odour to occur. Chromed stainless steel finish.
AirFresheners
Airmist, with patented IPE (Intense Plus Events) facility, enables programmable fragrance intensity, by allowing users to programme up to 3 periods per day for enhanced fragrance delivery to suit location requirements. Airmist delivers more neutraliser and fragrance with less propellant. The compact design enhances the image of the washroom.
Air Freshener Auto
The Omniscent fragrance delivery system is unique in its ability to provide continuous and consistent fragrance delivery to large interior spaces, whilst providing total user control of output and intensity, creating a positive user experience in areas such as gyms, reception areas and hotels. One unit will fragrance an area of up to 500 cubic metres. The range of Omniscent fragrance are extensive end are created from natural essential oils derived from wood, fruit, spices, flowers etc.
Baby Changing Station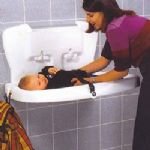 Installing a Babyminder changing station provides parents with a safe, convenient and hygienic changing facility in away from home locations and is now considered to be of equal importance as the provision of other essential facilities.
Dust Mats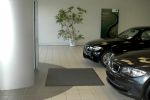 Dirt is collected on the mat through foot traffic and is drawn into the mat to prevent it from releasing into the air. The dust mat creates a better appearance and help to protect carpets and tiles. The non-slip feature can be used in a variety of high or low traffic areas and are substantially more durable than regular mats. The mats are collected at regular intervals and are replaced with cleaned sanitized mats as required.
Disposer Bins
This newly developed Waste Bin once again brings an industry first innovation to the market to take care of unsightly paper waste bins, where liners protrude over the side.With its stylish, easy to clean flowing lines that will compliment any washroom, the waste care bin has a few unique and novel features, the most interesting being a hidden housing with the bin which conveniently holds a roll of continuous liners, which make for easy bag removal and reload. It also has the ability to have the waste manually compacted into itself allowing a greater volume of waste to be disposed of. A washable colour co-ordinated chute system made from 2,5mm injection moulded ABS plastic and a quick release lock mechanism adds a new value to wastecare as we know it.
HandDryers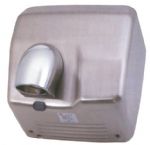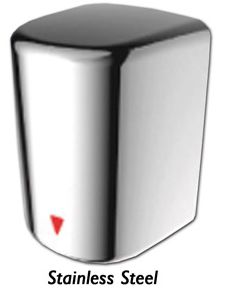 The Excel 2.3 KW hand dryer has an automatic, infra-red operation. This unit will compliment any washroom design. This has an automatic infra-red operation and is and is suitable for high traffic areas. It has a brushed stainless steel finish. This product carries a 5 year guarantee.
Paper Dispenser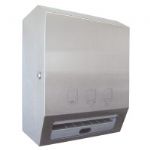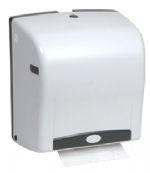 The Autotowel is a truly 'handsfree' controlled paper towel system and is more cost effective than a conventional free flowing dispenser. The paper length is electronically adjustable and the no touch auto feed mechanism with controlled second sheet delivery, reduces the possibility of waste build up in the washroom. The Autotowel accommodates 1 & 2 ply paper towel and also has a manual feed option.
Sanitizers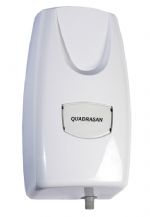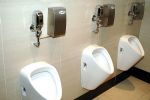 The Quadrasan dispenser provides the most effective automatic hygiene system that ensures clean sanitised and odour free toilets and urinals 24hrs a day. 99% of bacteria and germs are killed in the first flush. Hard water deposits are actively attacked while scale and unsightly stains are prevented, eliminating the breeding ground of odour causing bacteria.
Seatwipes Spray
Even seemingly clean surfaces can harbour vast numbers of harmful bacteria. Easy to use Safeseat provides the individual with the opportunity to clean and sanitise surfaces such as toilet seats effectively before use. Safeseat sanitising chemical is ultra quick drying and effective against harmful bacteria commonly found on and around toilet fixtures. This product carries a 5 year guarantee.
Soap Dispensers, Shower Gel, HandLotion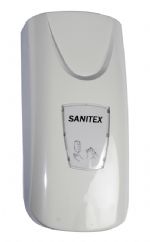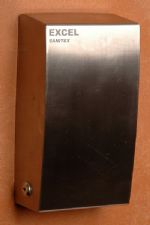 Hand washing is the activity that has the single largest impact on reducing the spread of disease. The Sanitex can accept a choice of innovating liquid, spray or foam pumps which provide flexibility for a choice or users preferred soap option (Antibacterial, lotion, foam, spray and alcohol hand sanitizer) without the necessity to change the entire dispenser.
Toilet Roll Holders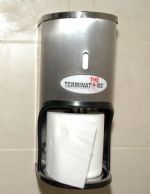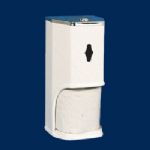 This stylish compact toilet roll holder has been manufactured in the same generic style as the EXCEL range. Grade 406 1.2mm brushed stainless steel finish. Other sizes & types available, (2 - 5 roll).
Touchless Hand Disinfection unit
Application specific dosage setting in 10 levels from 0,5 ml to 5 ml. For touchless disinfection of both hands at the same time. Excess liquid cannot harm floor or working surfaces. Permanent mains or rechargeable battery operated (flexible positioning), stand by time approx. 6 weeks. Optical signal before power shut down. Covers both hands equally with disinfection liquid. No nebulizing, therefore no aerosol vapours.